And everywhere else it seems, according to their Zionist-controlled War Dailies.

I was appalled when I clicked on and saw this item. How utterly disrespectful and downright evil.
"IOA decides to demolish Muslim cemetery in Jerusalem
[ 31/10/2008 - 07:25 PM ]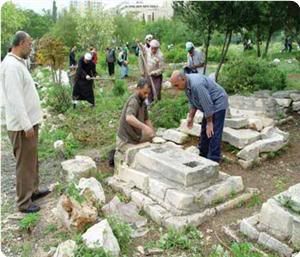 GAZA, (PIC)-- After an Israeli high court ruling on the matter on Thursday, the Israeli occupation government is expected to go ahead and destroy the Muslim cemetery of Mamanullah in the occupied city of Jerusalem, and to build a museum on it, prompting strong condemnation from the Palestinians.
Sheikh Raed Salah, leader of the Islamic movement in the 1948-occupied Palestinian lands, described the Israeli decision as tantamount to declaration of an international religious war against Arabs and Muslims, saying that the decision was coupled with another Israeli attack on the Church of Holy Sepulcher at the hands of an Israeli settler.
"A generation of the Sahaba (companions of Prophet Mohammed peace be upon him) had been buried here, and it currently contains more than 70,000 tombs of Muslims; yet, such facts failed to deter the Israeli occupation government from pursuing its crimes against the graveyard", asserted Salah in a press conference held over the matter.
He explained that the IOA had desecrated the cemetery in the past and constructed a hotel, streets, and car parking inside the cemetery, stressing that the Israeli justifications for the removal of the cemetery won't deceive Muslims.
"Do dead people pose a demographic threat to the Israeli occupation institution?", wondered Salah in reaction to the Israeli proposal to transfer tombs of the dead people inside the cemetery, asserting that neither Arabs nor Muslims would accept the Israeli decision.
For his part, prominent Palestinian Christian leader Archimandrite Atallah Hanna, who also attended the press conference, deprecated the Israeli decision and the attack on the Church, underlining Muslim-Christian unity in confronting the Israeli practices against Muslim and Christian holy shrines in occupied Palestine.
"We (Palestinian Muslims and Christians) are in one trench in confronting the Israeli conspiracies", underscored Hanna, adding that the IOA practices reflect the hatred and racism the Israeli occupation government conceals against Muslims and Christians.
He also sent a message of unity to Fatah and Hamas Movements, urging them, in the name of Jerusalem, to unite and solve their disputes in order to stand as one body against the Israeli malicious schemes.
Hamas warns of third intifada if israeli aggressions on Aqsa persist
--
MORE
--
"


Again,

maybe Muslims and Christians have MUCH MORE in COMMON than the Zionist-controlled, agenda-pushing, war-promoting AmeriKan MSM lets on, hmmm?



Also see
:
Jewish Terrorist attacks Church of the Holy Sepulcher


And as for the al-Aqsa mosque, if anything ever happens to that shrine, the obvious culprit will be ISRAEL!!

CUI BONO?

WHO wants to rebuild their temple there?