Where is the hue-and-cry from the Zionist-controlled Amerikan MSM?

Gee, when it is SEXISM against Sarah Palin, you can't touch her; however, if it is BLATANT RACISM against the BLACK MAN, well, that gets a BRIEF!!!!!!

Or NO COVERAGE AT ALL:
Alaskans Speak (In A Frightened Whisper): Palin Is "Racist, Sexist, Vindictive, And Mean"

When I say RACIST, ZIONIST, AmeriKan MSM I MEAN IT, folks!!!!

And look at what gets a
FULL ARTICLE
!!!



The PRO-McCain, anti-Obama BIAS of the RACIST, ZIONIST-CONTROLLED, AGENDA-PROMOTING, AmeriKan MSM is AS PALPABLE as an "Obamahouse Waffle," readers!!!!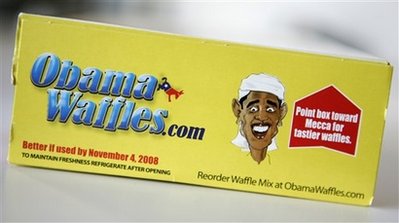 A box of Obama Waffles is seen in Washington, Saturday, Sept. 13,
2008
. [Agencies]
"
Republican Party stalwarts

Newt Gingrich and Mitt Romney were among speakers

at the forum,
"

"Point box towards Mecca for tastier waffles?"

Un-FUCKING-believable!!!!!!!!!
"Sale of 'Obama Waffles' draws on racial stereotype
Activists at a conservative political forum snapped up
boxes of waffle mix depicting Democratic presidential candidate Barack Obama as a racial stereotype on its front and wearing a turban-like headdress typically worn by Arabs, on its top flap
.
Values Voter Summit organizers stopped sales of Obama Waffles boxes yesterday, saying they had not realized the boxes displayed "offensive material." The summit and the exhibit hall where the boxes were sold had been open since Thursday afternoon.

Yeah, sure these RACIST SHITS didn't know!!!

The box was meant as political satire, said Mark Whitlock and Bob DeMoss, two writers from Franklin, Tenn., who created the mix. They sold it for $10 a box from a rented booth at the summit sponsored by the lobbying arm of the Family Research Council.
David Nammo, executive director of the lobbying group FRC Action, said summit organizers were told the boxes were a parody of Obama's policy positions but had not examined them closely.
While Obama Waffles takes aim at Obama's politics by poking fun at his public remarks and positions on issues, it also plays off the old image of the pancake-mix icon Aunt Jemima, which has been widely criticized as a demeaning stereotype. Obama is portrayed with popping eyes and big, thick lips as he stares at a plate of waffles and smiles broadly.
Placing Obama in turban-like headdress recalls the false rumor that he is a follower of Islam, though he is actually a Christian (AP)."

Oh, yeah, and HERE IS WHY OBAMA WINS a FAIR ELECTION!!!

Senator Barack Obama campaigned at a rally in Manchester, N.H., yesterday. At the event, Obama asked supporters to donate to the Red Cross for victims of Hurricane Ike. (Chris Carlson/Associated Press)

Did you SEE who is in that CROWD!!???? See the SIGN?

And yet the MSM is going to shove Sarah Palin and racism down your throat, America, to steal another election for the Repuglican!!!!

How GALLING!!! The RACIST, ZIONIST MSM calling US RACIST!!!!!

Lou Dobbs photo/story scrubbed from Obama Waffles site

by: Pam Spaulding

Sun Sep 14, 2008 at 07:48:39 AM EDT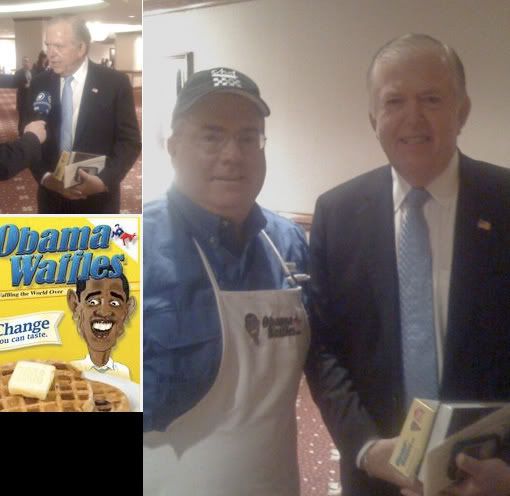 CNN's Lou Dobbs stopped by the booth and exclaimed, "My wife will love this!"
Hmmm...why would the page on the Obama Waffles site linked above suddenly get pulled? After all, Lou Dobbs, a speaker at the Values Voter Summit, stopped by the vendor table to give
a slamming endorsement
of the product; it depicts Barack Obama as a Muslim bug-eyed Aunt Jemima. The photo, as you can see, shows an approving Dobbs with a box of the mix in his hand.
Turns out I was right about Lou, too!!!