"
Gaza plunged into darkness on the eve of Eid
[ 08/12/2008 - 08:19 AM ]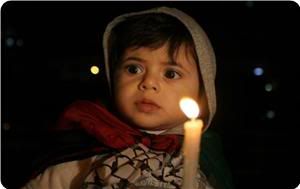 GAZA, (PIC)-- MP Jamal Al-Khudari, head of the Popular Committee Against the Siege, announced on Sunday that the sole power station in the Gaza Strip had to shut down because of lack of fuel after the total closure of the Gaza crossings for the
sixth week running
.
In his press statement, Khudari added that the power station was working for the past three days at 20% its capacity after a day's supply was allowed in.
He said that the people in Gaza received Eid al-Adha in darkness, poverty, shortage of fuel, shortage of water and all that is essential for a dignified life stressing that the electricity blackout multiplied the suffering of the people in Gaza.
Khudari called on everyone to act to help break the siege that is destroying the lives of one and a half million people who aspire for a dignified life free from occupation.
He called on the Arab and Muslim people around the world to take the opportunity of Eid to express their solidarity with the Palestinian people who are suffering a criminal siege imposed on Gaza and criminal acts committed by Israeli extremist settlers in the West Bank, especially in al-Khalil.
He added that solidarity activities, including demonstrations, do help in lifting the morale of the Palestinian people and feed their perseverance in the face of occupation atrocities.
Occupation decides to keep tight closure on Gaza on Eid
GAZA, (PIC)-- The Israeli occupation decided on Monday, the first day of Eid, to keep all crossings in the Gaza Strip closed for the
sixth consecutive week
threatening the Strip with unprecedented humanitarian, health and environmental disasters.
The Hebrew radio quoted political sources that the Israeli war minister Ehud Barak decided to keep all crossings with the strip closed because Palestinian home made missiles continue to fall on nearby Israeli settlements.
Furthermore, Barak met Thursday night with Salam Fayyad, the Prime Minster of the Ramallah government, where he showed Fayyad a number of Israeli measures to bolster Fayyad's government.
Barak also told Fayyad that the occupation government is studying allowing the deployment of Palestinian police in the city of Bethlehem in time for Christmas.
For his part, Salam Fayyad asked Barak to stop the settlers' attacks on Palestinians in al-khalil, but did not mention of the siege on the Gaza Strip.
The conditions caused by the siege were aggravated by the failure of Fayyad's government to pay the salaries for public employees this month claiming that this was because of Israeli measures that did not allow Shekels into the Gaza Strip.
It is worth noting that the Gaza government manages to pay the salaries of those public employees whose salaries have been cut by Fayyad because they carried on working after the Hamas take over in the Strip.
israel: any perceived excuse for ethnic cleansing will suffice.
--
MORE
--
"